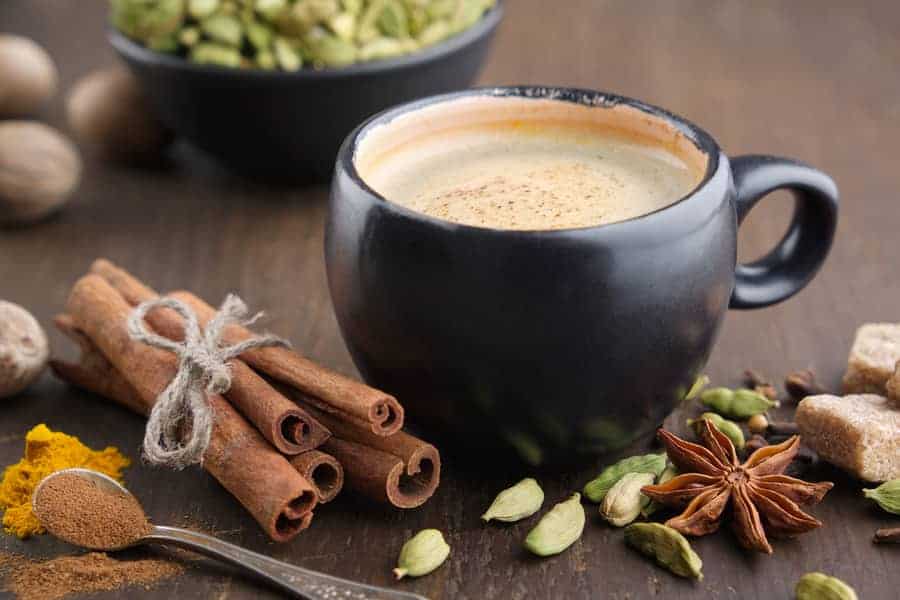 In addition to tasting delicious, supplying a ton of antioxidants, and waking you up, coffee is a great delivery vehicle for other healthy ingredients. Its strong, bitter flavor can disguise or be a complement to the flavors of other nutritious stir-ins. And by stir-ins, I'm not talking about cream, sugar, collagen, and certainly not butter!
Here are 11 ideas for healthy vegan coffee mix-ins:
Cinnamon
MSM
Gotu Kola
Cocoa Powder
Maca
Cardamom
Mushroom Powder
Elderberry Syrup
Turmeric (and pepper!)
Mint Leaves
Ginger
1. Cinnamon
Cinnamon stabilizes blood sugar levels, which in turn can make you feel like your energy levels are holding steady for an extended period. It has almost twice as many antioxidants by weight as blueberries. And by the way, cinnamon makes your coffee smell and taste divine.
You can sprinkle it directly into your coffee, or add it to coffee grounds before you brew. Or simply swirl a cinnamon stick in your coffee—leave it in as long as you like.
Note that most research supporting the healthy benefits of cinnamon have been done on cassia cinnamon, which is the most common type—you probably have it on your kitchen shelf now. Many people don't realize, however, that cassia cinnamon is toxic to the liver and carcinogenic when taken in large amounts. For that reason, I use Ceylon cinnamon only. It has lower amounts of coumarin, the offending component of cassia cinnamon.
Ceylon cinnamon's s flavor is milder and sweeter than that of cassia, but just as delicious. You should be able to find it in your local grocery store or online (it's on the shelf at my local Target).
2. MSM
Methylsulfonylmethane, or MSM, is a bioavailable form of sulfur. It's a trendy supplement, with well-documented anti-inflammatory properties. It may help ease arthritis symptoms by protecting cartilage in joints, and it may help reduce the appearance of fine lines and wrinkles by stimulating collagen production.
The liquid form can be dropped into your coffee (dose per package instructions). MSM is tasteless and considered safe, though there is some evidence it may build up in the body, so you may want to take breaks from it over time.
See a lot more about MSM, its benefits and uses on my blog here.
3. Gotu Kola
Goto Kola has been used in traditional Ayurvedic and Chinese medicines for centuries. Topically, it has been shown to improve wound healing and the appearance of wrinkles, as it helps build collagen. Taken internally, it may have similar effects, but there is more evidence that it can help increase alertness, reduce anxiety, and improve varicose veins and edema. Gotu kola is also a potent antioxidant.
Gotu Kola has a distinct, sweet taste, though you likely won't notice it in your coffee. The easiest way to take it is to drop the liquid into your coffee (dose per package instructions). Take a break after about six weeks, as few studies showing it to be safe have extended past that timeframe. Don't take it if you're pregnant, nursing or have liver disease.
4. Cocoa Powder
It's not news that cocoa is delicious in coffee—mocha cappuccino is popular for good reason. But you don't need syrup or milk to make delicious cocoa coffee. And cocoa is surprisingly good for you, and easy to incorporate into your cup of coffee, calorie-free.
Cocoa is high in antioxidants and is linked to improved cholesterol and blood sugar levels.
Just sprinkle a teaspoon-full into your coffee grounds before brewing, or stir directly into your coffee.
5. Maca
Maca, also known as Peruvian ginseng, has been used for thousands of years as a food source and adaptogenic herb for boosting energy, athletic performance, libido, mood, and improving menopause symptoms. It has a mild, earthy taste.
Buy the loose powder and sprinkle one to two teaspoons in your coffee. Be sure to get the "gelatinized" form, which is more digestible than raw maca. Note, this form does not contain any gelatin; it is just the name of the cooking process that removes starch from maca.
People with thyroid problems (maca contains goitrogens) or hormone-responsive cancer, such as breast or prostate cancer, should not take maca. Cycle on and off for 2-4 weeks, to keep your body sensitive to its effects.
6. Cardamom
Cardamom is high in antioxidants and may help fight cancer, lower blood pressure and is anti-inflammatory. It's part of the ginger family, which may be why it is also a good aid for nausea.
Cardamom has a refreshing, unique flavor akin to ginger. Sprinkle the spice in your coffee or in the grounds before brewing. Note that cardamom loses its flavor quickly after grinding. If you can find the pods (they are available on amazon) they will taste worlds better.
Slightly crush one pod and pour your coffee over it. You may remove the pod if the flavor becomes too strong. Alternatively, you can peel open the pod and put just the seeds in your coffee.
7. Mushroom powder
I know this one sounds weird, but hear me out. Mushrooms are earthy and brown like cocoa and maca, which are great in coffee. More importantly, medicinal mushrooms contain nutrients that you can't get with any other food. They are high in heart-healthy, immune-boosting beta glucans and unique inflammation-fighting antioxidants. Taking the powder is an easy way to reap their benefits since these mushrooms in their food forms are hard to find. Here are seven types to try:
Lion's Mane benefits cognition, and it may help slow the advance of dementia and Alzheimer's disease.
Chaga is high in antioxidants; it supports the immune system; and has anti-cancer properties.
Cordyceps boosts energy and oxygen use during exercise.
Reishi boosts the immune system.
Turkey Tail may improve colon and other cancers, and boosts the immune system.
Shiitake can boost heart health and has anti-cancer properties.
Maitake has anti-cancer properties.
Mushroom powder tastes strongly bitter, but coffee masks it well. Add it slowly to your cup and stir well. You can find mushroom powder at most health food stores and online. Some brands provide multiple mushroom types in one product — here is the one I use (you will be taken to Amazon). Watch for any symptoms of allergies or asthma, and don't take any of these mushrooms if you have diabetes, an auto-immune condition, are pregnant or breast-feeding, or are on blood thinners, as all could be affected.
8.Elderberry syrup
Elderberry is a folklore remedy used for centuries to help treat colds and viruses, and scientific evidence increasingly backs up these claims. It has been shown to help stop viral replication, reducing the severity and duration of illness, especially if used as soon as you feel symptoms coming on (note — no studies have been done on elderberries and COVID-19).
The syrup makes a tasty sweetener for coffee. You'll find it in health food stores and vitamin shops, or you can buy it online. Follow package instructions for dosage information. Do not use elderberry syrup if you have an auto-immune condition, as it affects your immune system.
9.Turmeric (and pepper!)
Turmeric has starred in a lot of health news lately for good reason. New scientific research continues to be published supporting its benefits. A compound in the turmeric called curcumin is thought to be responsible for its strong anti-inflammatory, antiviral and antifungal effects.
Earthy turmeric mixes well in flavor with coffee – a tiny sprinkle is enough. Add a dash of finely ground pepper, as pepper increases the bioavailability of curcumin significantly. You won't taste the pepper. You can add the turmeric and pepper directly to a cup of coffee (or more precisely, add the coffee to the spices, for better blending), or you can put them with the ground coffee in your coffee machine for a slightly more diluted, but perfectly blended brew.
10. Mint leaves
Mint is refreshing, has antimicrobial properties, soothes indigestion, and may boost memory.
Mint leaves are amazing in coffee. Just put a leaf or two in the bottom of your cup and fill up. This idea could be great with the addition of cocoa powder — mint mocha coffee, no sweetener necessary! (But if you add some anyway, I won't tell).
11. Ginger
Ginger has powerful anti-inflammatory, antioxidant and anti-cancer effects. It also famously helps relieve nausea and indigestion.
It will add a mild spicy flavor to your coffee. You can use the dried powder in your spice cabinet or slice the fresh root. Add a teaspoon or slice or two directly to your drink, or put it to the grounds before you brew.
How to enjoy these vegan coffee boosters
I use a different mix-in for my first and second cups, and then vary them over the course of a week. That way I get a variety of benefits, and never too much of any one thing. I'll mix them together sometimes to heighten the flavors and stack up the benefits. For example, cinnamon and cardamom or cocoa work well together, as do mint and cocoa. Enjoy!
What other healthy, vegan coffee mix-ins have you tried?
Related Questions
What is the best vegan nut milk?
I'm a fan of Elmhurst's Miked brands, the unsweetened varieties, because the only ingredients are nuts and water — no thickening gums are added, unlike most other brands. Choose from almond, cashew, walnut, hazelnut or oat (but oat has added salt).
How do you make vegan latte?
To one cup of espresso or strong coffee, add enough hot, whisked nut milk to fill the cup.
How do you make non-dairy whipped cream?
You can whip coconut cream (leave the water behind if it has separated); it works best if the can has been refrigerated. Add powdered sugar to taste.
Sources
Rao PV, Gan SH. Cinnamon: a multifaceted medicinal plant. Evid Based Complement Alternat Med. 2014;2014:642942. doi:10.1155/2014/642942
Carlsen MH, Halvorsen BL, Holte K, et al. The total antioxidant content of more than 3100 foods, beverages, spices, herbs and supplements used worldwide. Nutr J. 2010;9:3. Published 2010 Jan 22. doi:10.1186/1475-2891-9-3
Butawan, Matthew; Benjamin, Rodney L.; Bloomer, Richard J. (2017, Mar). Methylsulfonylmethane: applications and safety of a novel dietary supplement. Nutrients 9(3), 290. https://doi.org/10.3390/nu9030290
Gohil, K. J., Patel, J. A., & Gajjar, A. K. (2010). Pharmacological Review on Centella asiatica: A Potential Herbal Cure-all. Indian journal of pharmaceutical sciences, 72(5), 546–556. https://doi.org/10.4103/0250-474X.78519
Latif R. (2013). Health benefits of cocoa. Current opinion in clinical nutrition and metabolic care, 16(6), 669–674. https://doi.org/10.1097/MCO.0b013e328365a235
Wang, S., & Zhu, F. (2019). Chemical composition and health effects of maca (Lepidium meyenii). Food chemistry, 288, 422–443. https://doi.org/10.1016/j.foodchem.2019.02.071
Qiblawi, S., Al-Hazimi, A., Al-Mogbel, M., Hossain, A., & Bagchi, D. (2012). Chemopreventive effects of cardamom (Elettaria cardamomum L.) on chemically induced skin carcinogenesis in Swiss albino mice. Journal of medicinal food, 15(6), 576–580. https://doi.org/10.1089/jmf.2011.0266.
Das, I., Acharya, A., Berry, D. L., Sen, S., Williams, E., Permaul, E., Sengupta, A., Bhattacharya, S., & Saha, T. (2012). Antioxidative effects of the spice cardamom against non-melanoma skin cancer by modulating nuclear factor erythroid-2-related factor 2 and NF-κB signalling pathways. The British journal of nutrition, 108(6), 984–997. https://doi.org/10.1017/S0007114511006283.
Verma, S. K., Jain, V., & Katewa, S. S. (2009). Blood pressure lowering, fibrinolysis enhancing and antioxidant activities of cardamom (Elettaria cardamomum). Indian journal of biochemistry & biophysics, 46(6), 503–506.
Kandikattu, H. K., Rachitha, P., Jayashree, G. V., Krupashree, K., Sukhith, M., Majid, A., Amruta, N., & Khanum, F. (2017). Anti-inflammatory and anti-oxidant effects of Cardamom (Elettaria repens (Sonn.) Baill) and its phytochemical analysis by 4D GCXGC TOF-MS. Biomedicine & pharmacotherapy = Biomedecine & pharmacotherapie, 91, 191–201. https://doi.org/10.1016/j.biopha.2017.04.049.
Ozgoli, G., & Saei Ghare Naz, M. (2018). Effects of Complementary Medicine on Nausea and Vomiting in Pregnancy: A Systematic Review. International journal of preventive medicine, 9, 75. https://doi.org/10.4103/ijpvm.IJPVM_430_16.
Kim Y. R. (2005). Immunomodulatory Activity of the Water Extract from Medicinal Mushroom Inonotus obliquus. Mycobiology, 33(3), 158–162. https://doi.org/10.4489/MYCO.2005.33.3.158.
Kang, J. H., Jang, J. E., Mishra, S. K., Lee, H. J., Nho, C. W., Shin, D., Jin, M., Kim, M. K., Choi, C., & Oh, S. H. (2015). Ergosterol peroxide from Chaga mushroom (Inonotus obliquus) exhibits anti-cancer activity by down-regulation of the β-catenin pathway in colorectal cancer. Journal of ethnopharmacology, 173, 303–312. https://doi.org/10.1016/j.jep.2015.07.030.
Ko, S. K., Jin, M., & Pyo, M. Y. (2011). Inonotus obliquus extracts suppress antigen-specific IgE production through the modulation of Th1/Th2 cytokines in ovalbumin-sensitized mice. Journal of ethnopharmacology, 137(3), 1077–1082. https://doi.org/10.1016/j.jep.2011.07.024.
Sabaratnam, V., Kah-Hui, W., Naidu, M., & Rosie David, P. (2013). Neuronal health – can culinary and medicinal mushrooms help?. Journal of traditional and complementary medicine, 3(1), 62–68. https://doi.org/10.4103/2225-4110.106549.
Lai, P. L., Naidu, M., Sabaratnam, V., Wong, K. H., David, R. P., Kuppusamy, U. R., Abdullah, N., & Malek, S. N. (2013). Neurotrophic properties of the Lion's mane medicinal mushroom, Hericium erinaceus (Higher Basidiomycetes) from Malaysia. International journal of medicinal mushrooms, 15(6), 539–554. https://doi.org/10.1615/intjmedmushr.v15.i6.30.
Mori, K., Obara, Y., Moriya, T., Inatomi, S., & Nakahata, N. (2011). Effects of Hericium erinaceus on amyloid β(25-35) peptide-induced learning and memory deficits in mice. Biomedical research (Tokyo, Japan), 32(1), 67–72. https://doi.org/10.2220/biomedres.32.67.
Tsai-Teng, T., Chin-Chu, C., Li-Ya, L., Wan-Ping, C., Chung-Kuang, L., Chien-Chang, S., Chi-Ying, H. F., Chien-Chih, C., & Shiao, Y. J. (2016). Erinacine A-enriched Hericium erinaceus mycelium ameliorates Alzheimer's disease-related pathologies in APPswe/PS1dE9 transgenic mice. Journal of biomedical science, 23(1), 49. https://doi.org/10.1186/s12929-016-0266-z.
Zhang, J., An, S., Hu, W., Teng, M., Wang, X., Qu, Y., Liu, Y., Yuan, Y., & Wang, D. (2016). The Neuroprotective Properties of Hericium erinaceus in Glutamate-Damaged Differentiated PC12 Cells and an Alzheimer's Disease Mouse Model. International journal of molecular sciences, 17(11), 1810. https://doi.org/10.3390/ijms17111810.
Cheng, J. H., Tsai, C. L., Lien, Y. Y., Lee, M. S., & Sheu, S. C. (2016). High molecular weight of polysaccharides from Hericium erinaceus against amyloid beta-induced neurotoxicity. BMC complementary and alternative medicine, 16, 170. https://doi.org/10.1186/s12906-016-1154-5.
Hirsch, K. R., Smith-Ryan, A. E., Roelofs, E. J., Trexler, E. T., & Mock, M. G. (2017). Cordyceps militaris Improves Tolerance to High-Intensity Exercise After Acute and Chronic Supplementation. Journal of dietary supplements, 14(1), 42–53. https://doi.org/10.1080/19390211.2016.1203386.
Lin Z. B. (2005). Cellular and molecular mechanisms of immuno-modulation by Ganoderma lucidum. Journal of pharmacological sciences, 99(2), 144–153. https://doi.org/10.1254/jphs.crj05008x.
Benson, K. F., Stamets, P., Davis, R., Nally, R., Taylor, A., Slater, S., & Jensen, G. S. (2019). The mycelium of the Trametes versicolor (Turkey tail) mushroom and its fermented substrate each show potent and complementary immune activating properties in vitro. BMC complementary and alternative medicine, 19(1), 342. https://doi.org/10.1186/s12906-019-2681-7.
Satoh, Y., Goi, T., Nakazawa, T., Kimura, Y., Hirono, Y., Katayama, K., & Yamaguchi, A. (2012). Polysaccharide K suppresses angiogenesis in colon cancer cells. Experimental and therapeutic medicine, 4(3), 370–374. https://doi.org/10.3892/etm.2012.632.
Awadasseid, A., Hou, J., Gamallat, Y., Xueqi, S., Eugene, K. D., Musa Hago, A., Bamba, D., Meyiah, A., Gift, C., & Xin, Y. (2017). Purification, characterization, and antitumor activity of a novel glucan from the fruiting bodies of Coriolus Versicolor. PloS one, 12(2), e0171270. https://doi.org/10.1371/journal.pone.0171270.
Kabir, Y., Yamaguchi, M., & Kimura, S. (1987). Effect of shiitake (Lentinus edodes) and maitake (Grifola frondosa) mushrooms on blood pressure and plasma lipids of spontaneously hypertensive rats. Journal of nutritional science and vitaminology, 33(5), 341–346. https://doi.org/10.3177/jnsv.33.341.
Yang, H., Hwang, I., Kim, S., Hong, E. J., & Jeung, E. B. (2013). Lentinus edodes promotes fat removal in hypercholesterolemic mice. Experimental and therapeutic medicine, 6(6), 1409–1413. https://doi.org/10.3892/etm.2013.1333.
Masuda, Y., Inoue, H., Ohta, H., Miyake, A., Konishi, M., & Nanba, H. (2013). Oral administration of soluble β-glucans extracted from Grifola frondosa induces systemic antitumor immune response and decreases immunosuppression in tumor-bearing mice. International journal of cancer, 133(1), 108–119. https://doi.org/10.1002/ijc.27999.
Zakay-Rones, Z., Thom, E., Wollan, T., & Wadstein, J. (2004). Randomized study of the efficacy and safety of oral elderberry extract in the treatment of influenza A and B virus infections. The Journal of international medical research, 32(2), 132–140. https://doi.org/10.1177/147323000403200205.
Tiralongo, E., Wee, S. S., & Lea, R. A. (2016). Elderberry Supplementation Reduces Cold Duration and Symptoms in Air-Travellers: A Randomized, Double-Blind Placebo-Controlled Clinical Trial. Nutrients, 8(4), 182. https://doi.org/10.3390/nu8040182.
Mikaili, P., Mojaverrostami, S., Moloudizargari, M., & Aghajanshakeri, S. (2013). Pharmacological and therapeutic effects of Mentha Longifolia L. and its main constituent, menthol. Ancient science of life, 33(2), 131–138. https://doi.org/10.4103/0257-7941.139059.
Wang, S., Zhang, C., Yang, G., & Yang, Y. (2014). Biological properties of 6-gingerol: a brief review. Natural product communications, 9(7), 1027–1030.
Ernst, E., & Pittler, M. H. (2000). Efficacy of ginger for nausea and vomiting: a systematic review of randomized clinical trials. British journal of anaesthesia, 84(3), 367–371. https://doi.org/10.1093/oxfordjournals.bja.a013442.