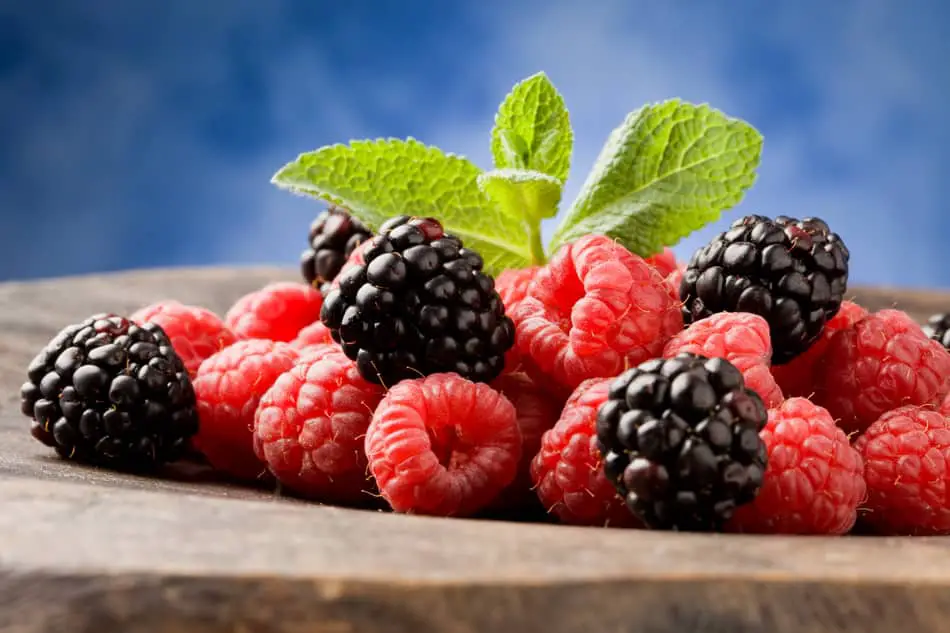 If you are on a low-sugar or low-carb diet, you may feel that you cannot eat fruit. But fresh whole fruit, with its fiber intact, is typically a low glycemic food. And fruit offers many phytonutrients in addition to vitamins, minerals, and fibers that make it an important part of any healthy diet.
But you still may want to choose a low-sugar or low-carb type of fruit. The table below provides sugar and carb values for a comprehensive list of fruits in alphabetical order.
The fruit with the lowest amount of sugar per serving (100 grams, or about 3/4 cup) is raspberries, and blackberries are in close second place, at 4.42 and 4.88 grams respectively.
The fruit with the lowest carbs is watermelon at 7.55 grams per serving, and strawberries are right behind at 7.68 grams per serving.
The fruit highest in sugar is grapes at 15.5 grams per serving, and lychees are in a near tie at 15.2 grams. The highest-carb fruit is passion fruit at 23.4 grams, and bananas are near second at 22.8 grams.
Below this alphabetical chart, I provide a list of the fruits from highest to lowest sugar, and from highest to lowest carbs.
Fruit
(100 grams)
Sugar
(grams)
Carbs
(grams)
Apple (Honeycrisp)
12.4
14.7
Apple (Granny Smith)
10.6
14.1
Apricot
9.24
11.1
Bananas
12.2
22.8
Blackberries
4.88
9.61
Blueberries
9.96
14.5
Cantaloupe
7.86
8.16
Cherries
12.8
16.0
Clementine
9.18
12.0
Grapefruit
7.31
8.4
Grapes
15.5
18.1
Guava
8.92
14.3
Honeydew Melon
8.12
9.09
Kiwi
8.99
14.0
Kumquat
9.36
15.9
Lychee
15.2
16.5
Mandarin
10.6
13.3
Mango
13.7
15.0
Nectarine
7.89
9.18
Orange
9.35
11.8
Papaya
7.82
10.8
Passion Fruit
11.2
23.4
Peaches
8.39
10.1
Pear
9.75
15.2
Persimmon
12.5
18.6
Pineapple
9.85
13.1
Plums
9.92
11.4
Pomegranate
13.7
18.7
Raspberries
4.42
11.9
Strawberries
4.89
7.68
Tangerine
10.6
13.3
Watermelon
6.2
7.55
Table of Sugar and Carbs For Many Popular Fruits in Alphabetical Order
Source: USDA Food Data Central
List of Fruits In Order From Highest to Lowest Sugar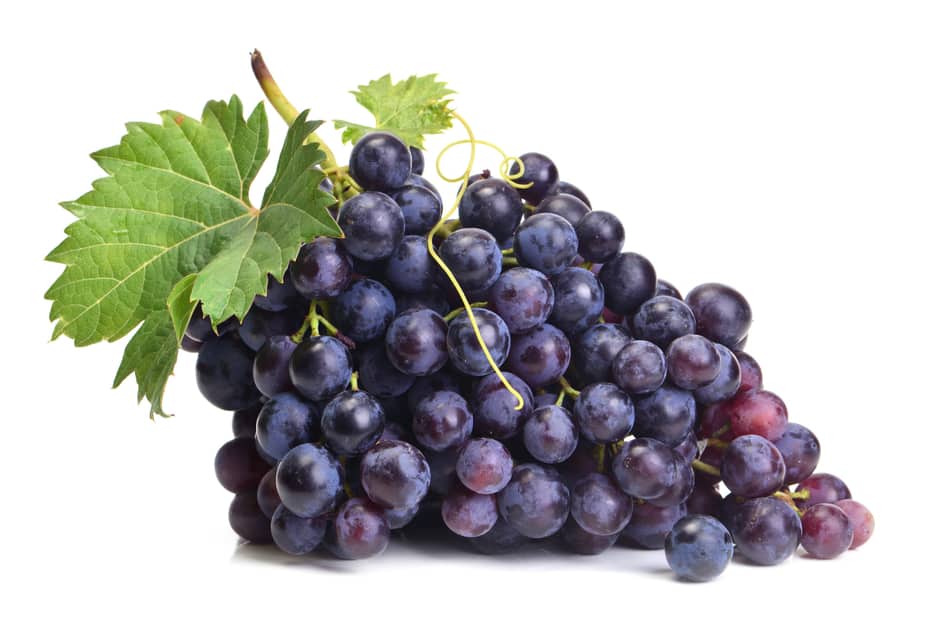 Grapes, the fruit with the highest amount of sugar, have 3 1/2 times as much sugar per serving as the lowest-sugar fruit, raspberries.
Sugar
(grams)
Grapes
15.5
Lychee
15.2
Mango
13.7
Pomegranate
13.7
Cherries
12.8
Persimmon
12.5
Apple (Honeycrisp)
12.4
Bananas
12.2
Passion Fruit
11.2
Apple (Granny Smith)
10.6
Mandarin
10.6
Tangerine
10.6
Blueberries
9.96
Plums
9.92
Pineapple
9.85
Pear
9.75
Kumquat
9.36
Orange
9.35
Apricot
9.24
Clementine
9.18
Kiwi
8.99
Guava
8.92
Peaches
8.39
Honeydew Melon
8.12
Nectarine
7.89
Cantaloupe
7.86
Papaya
7.82
Grapefruit
7.31
Watermelon
6.2
Strawberries
4.89
Blackberries
4.88
Raspberries
4.42
Table of Sugar Content for Many Popular Fruits in Order From Highest to Lowest
Source: USDA Food Data Central
List of Fruits In Order From Highest to Lowest Carbs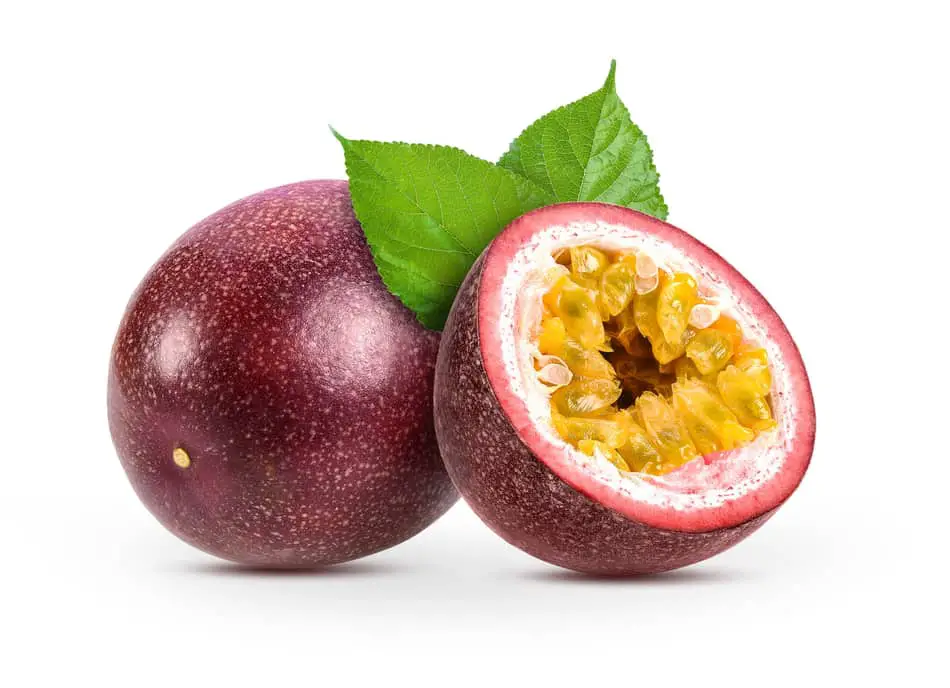 Passion Fruit and bananas, which are the fruit varieties with the highest amounts of carbs, have over 3 times the carbs of the lowest-carb fruit, watermelon.
Carbs
(grams)
Passion Fruit
23.4
Bananas
22.8
Pomegranate
18.7
Persimmon
18.6
Grapes
18.1
Lychee
16.5
Cherries
16.0
Kumquat
15.9
Pear
15.2
Mango
15.0
Apple (Honeycrisp)
14.7
Blueberries
14.5
Guava
14.3
Apple (Granny Smith)
14.1
Kiwi
14.0
Mandarin
13.3
Tangerine
13.3
Pineapple
13.1
Clementine
12.0
Raspberries
11.9
Orange
11.8
Plums
11.4
Apricot
11.1
Papaya
10.8
Peaches
10.1
Blackberries
9.61
Nectarine
9.18
Honeydew Melon
9.09
Cantaloupe
8.16
Grapefruit
8.4
Strawberries
7.68
Watermelon
7.55
Table of Carb Levels for Many Popular Fruits in Order From Highest to Lowest
Source: USDA Food Data Central
Why Are Sugar and Carb Amounts Different?
Sugar and carbohydrates are not the same thing. Carbohydrate numbers include levels of three things: sugar, starch and fiber3. Fiber and resistant starch are complex carbohydrates that offer many health benefits including improving insulin resistance and blood lipids; nourishing the gut microbiome; reducing obesity and other benefits4,5.
Passion fruit is a good source of fiber, which accounts for its higher carb-to-sugar ratio compared to other fruits. In general, it is best to avoid refined carbs, like the white flour and sugar found in processed foods, but embrace complex carbs like those found in whole fruit.
Summing It Up
All of the fruits on this list are good for you, and the differences in their sugar and carb levels may be subtle in their impact on your health. But if you are looking to optimize a low sugar diet that still includes fruit, choose raspberries or blackberries. And for low carbs, choose watermelons or strawberries.
Enjoy!
Curious what the healthiest apple variety is? Find out here.
Find out what the healthiest nut is here.
Learn about the healthiest salad green here.
Resources
1 https://www.diabetes.org/healthy-living/recipes-nutrition/eating-well/fruit.
3 https://www.diabetes.org/healthy-living/recipes-nutrition/understanding-carbs/get-to-know-carbs
4 Birt, D. F., Boylston, T., Hendrich, S., Jane, J. L., Hollis, J., Li, L., McClelland, J., Moore, S., Phillips, G. J., Rowling, M., Schalinske, K., Scott, M. P., & Whitley, E. M. (2013). Resistant starch: promise for improving human health. Advances in nutrition (Bethesda, Md.), 4(6), 587–601. https://doi.org/10.3945/an.113.004325.
5 Nugent, A. P. (2005). Health properties of resistant starch. Nutrition Bulletin, 320 30(1), 27-54.