From what I can tell, I was one of first people to write in depth about how to order your own blood test, both in my book, Up Your Energy, and in this blog post. It's one of my most popular posts, and readership has been increasing as more people learn about this way to help monitor your own health.
My post came to the attention of PersonaLabs, a do-it-yourself lab testing company. This is a sponsored post—they provided me two free tests in exchange for my honest review of the experience, and inclusion of their lab in my overview of lab testing companies.
I thought my readers might be interested in how the process works, so this tells the story, using my experience with PesonaLabs, start to finish.
A little more background first. Many people do not realize that they can order lab tests on their own, without going through a physician. But in the U.S., anyone age 18 or over can do so in every state except for NY, NJ and RI.
Why Order Your Own Lab Tests?
Here are a couple of reasons why you may want to order your own lab tests:
You don't have to make a doctor's appointment to get the lab order. A few years ago I learned that I was severely deficient in vitamin D, and I have a gene that makes it harder for my body to make its own vitamin D. So I get my D levels tested once every 3-6 months. If I had to make a doctor's appointment every time I wanted a lab test, it would be expensive and inconvenient.
Your doctor may not want to order the tests you are interested in. Most traditional primary care doctors will give you a basic CBC blood test at a check-up. But they typically do not do other tests that could reveal ways to improve your health, like test for vitamin or mineral deficiencies or hormone imbalances, which are extremely common. They may feel the test area is outside their area of expertise (most doctors receive little training in nutrition), or they may not want to fight with your insurance company for you over paying for the tests. Being able to order your own blood tests is a valuable way to take your health into your own hands.
What Are the Downsides of Ordering Your Own Lab Tests?
An important consideration in ordering your own tests is that you won't have a doctor who can help you interpret the results and make decisions about what to do about them. The lab reports will tell you what tests are out of normal range, but they won't tell you how serious the problem is, whether you need to take action, or what that action should be. If you have abnormal results, in most cases you will need to talk to your doctor about what, if anything, to do about them. One advantage with PersonaLabs is that they offer a physician consultation after you receive your lab results. More on that below.
Another consideration is that if you order your own tests, insurance will likely not cover the cost. Insurers want to make sure that tests are medically necessary as determined by a physician before they pay for them. The good news is that ordering your own tests may be less expensive than going through a physician. Prices vary widely among labs. See my cost comparison here. And it's worth asking your insurance company to cover self-test costs; you never know until you try.
How Do You Order Your Own Lab Tests?
It's easy to order your own lab tests. You simply go online to one of the personal lab companies like PersonaLabs.com, and put what tests you want to order in the shopping cart, just like any other on-line shopping experience. Some labs do the tests themselves, but the vast majority of them use one of the big lab testing companies like Quest or LabCorp.
You will be given a lab order and then directed to where to make an appointment to do the blood draw or other test. You'll receive results in your email within a few days or weeks of the test, depending on the lab and the test.
My Experience with PersonaLabs
I decided to get a Healthy Female lab test, which is a comprehensive look at general health for women. I also asked for a Heavy Metals test. I have never been tested for heavy metals before. I eat a lot of dark chocolate, which tends to have high levels of cadmium, and a lot of rice, which tends to be high in arsenic. So I was interested in checking those levels and making sure those diet choices aren't causing any harm.
The Healthy Female Blood Checkup Blood Test
Here are more details on the Healthy Female Checkup Blood Test from the PersonaLabs website: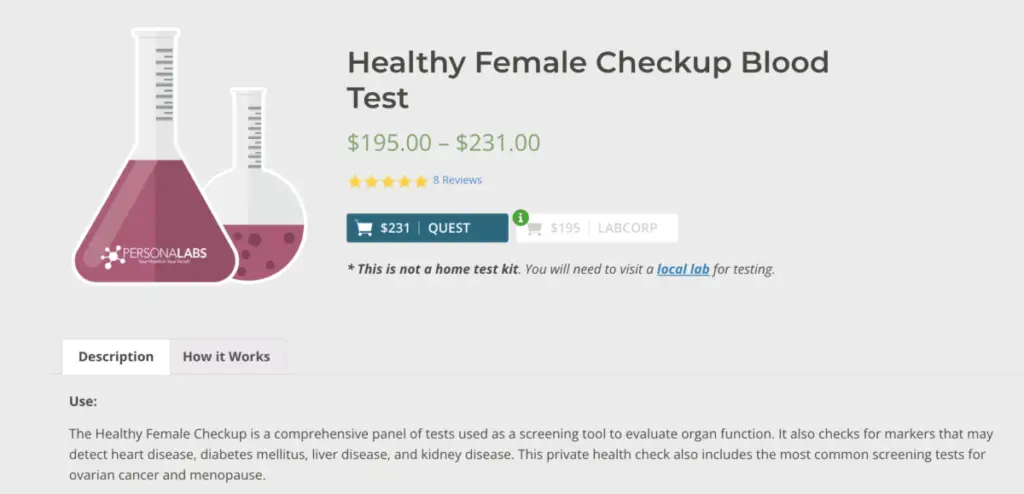 "The Healthy Female Checkup is a comprehensive panel of tests used as a screening tool to evaluate organ function. It also checks for markers that may detect heart disease, diabetes mellitus, liver disease, and kidney disease. This private health check also includes the most common screening tests for ovarian cancer and menopause."
PersonaLab's tests go through either Quest or LabCorp; you'll need to pick which one to use for each test you order. The website explains how the elements differ for each lab's tests and costs. Here are the two options for the Healthy Female test:
Quest, $231
Apolipoprotein B
CA-125
CBC with Differential/Platelet Count
Comprehensive Metabolic Panel (CMP 14)
C-Reactive Protein (cardiac CRP), High Sensitivity
Estradiol
FSH
Lipid Panel with LDL/HDL Ratio
Liver Function Profile
TSH
Urinalysis, Complete
Iron, Total and Total Iron Binding Capacity
LabCorp, $195
CMP14
FE & IBC
Lipid panel
Cardiac-CRP
TSH
CA125
Estrogen
CBC
Urinalysis(female)
The Heavy Metals Profile Blood Test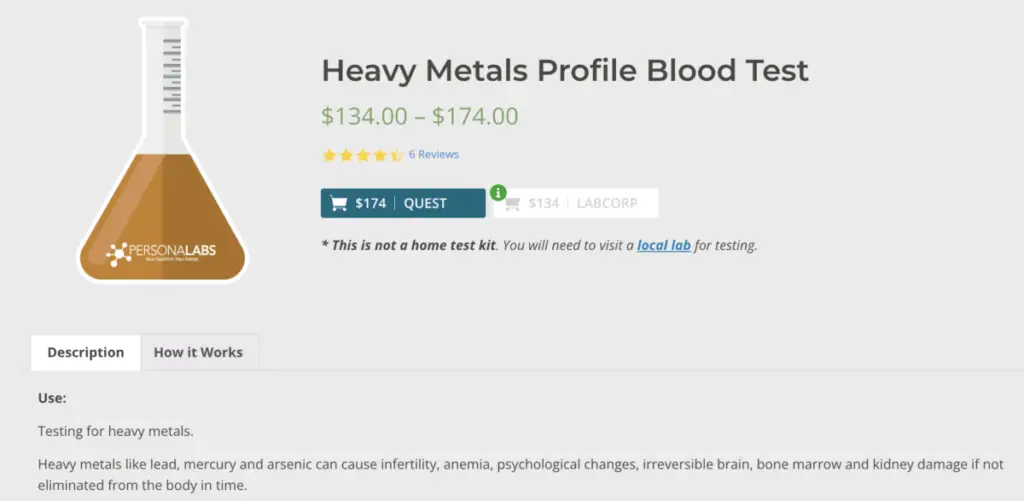 Here is the description of the Heavy Metals Profiles Test:
Testing for heavy metals.
"Heavy metals like lead, mercury and arsenic can cause infertility, anemia, psychological changes, irreversible brain, bone marrow and kidney damage if not eliminated from the body in time."
Two options were:
Quest: $174
LabCorp: $134
The description specifies "heavy metals like lead, mercury and arsenic." It was unclear to me if other metals might be included, so I went to the Quest and LabCorp websites to look up what was included in their heavy metal tests. Unfortunately, I looked up the wrong version of LabCorp's test, and thought I was ordering one that included cadmium, but that turned out to be a different test. So I still don't know if my chocolate habit is doing me harm. (Maybe I don't really want to know, haha).
Ordering The Tests
Ordering the tests was easy. Here are the steps:
Go to PersonaLabs.com
Navigate to the test(s) you want to order
Put it in your shopping cart
Sign in or create an account
Pay for the test(s) with a credit card or PayPal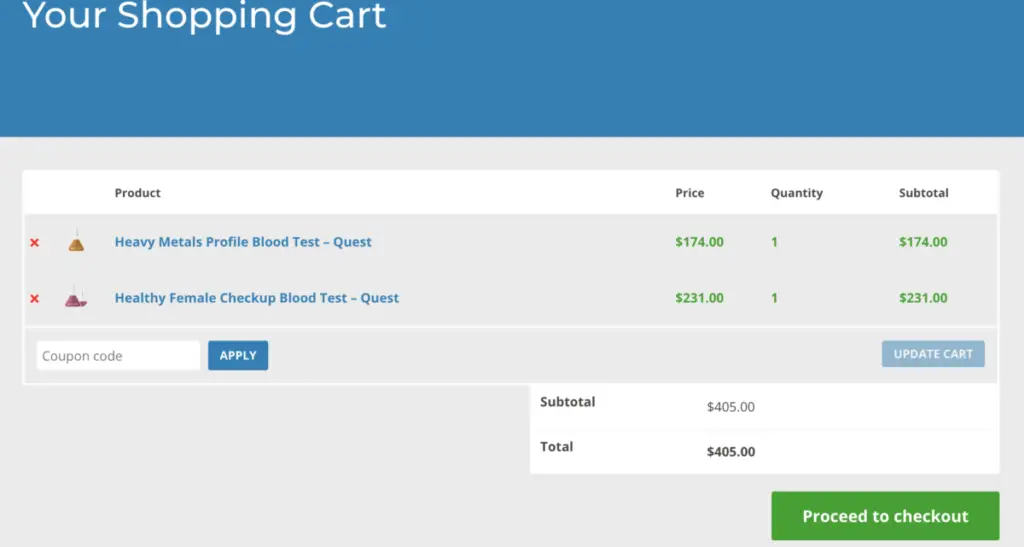 What Happened Next
After I paid for the tests I was emailed a link in my email that I needed to click on in order to generate my lab order. At this stage I picked which lab location I wanted to go to near my home for the blood draw, and made an appointment.
A follow-up email contained a link to print out my lab order and schedule my lab tests.
A couple of days later I had my tests done on a Thursday. I went early in the morning, as my blood test required fasting. The lab was ten minutes from my house, and I was in and out in ten minutes. I had forgotten to bring my printed order with me, but the lab was able to find my order in their system, so I didn't have to go back home to get it.
Over the years I have often been told by people who draw my blood that I have veins that are difficult to draw from. They are thin and "wiggly," apparently. But my blood draw went smoothly. The technician tapped the vein on the first try and left no bruising (which I often get).
Getting My Results
The results came quickly. On the Monday following my blood draw (four days later, which included a weekend), I received an email from PersonaLabs saying my results were ready. I clicked on a link and was taken to a PersonaLabs page where I could sign in and review my results. My results were displayed in an easy-to-read format that clearly called out if the results are normal or out of range. Here is a screenshot of some of my results: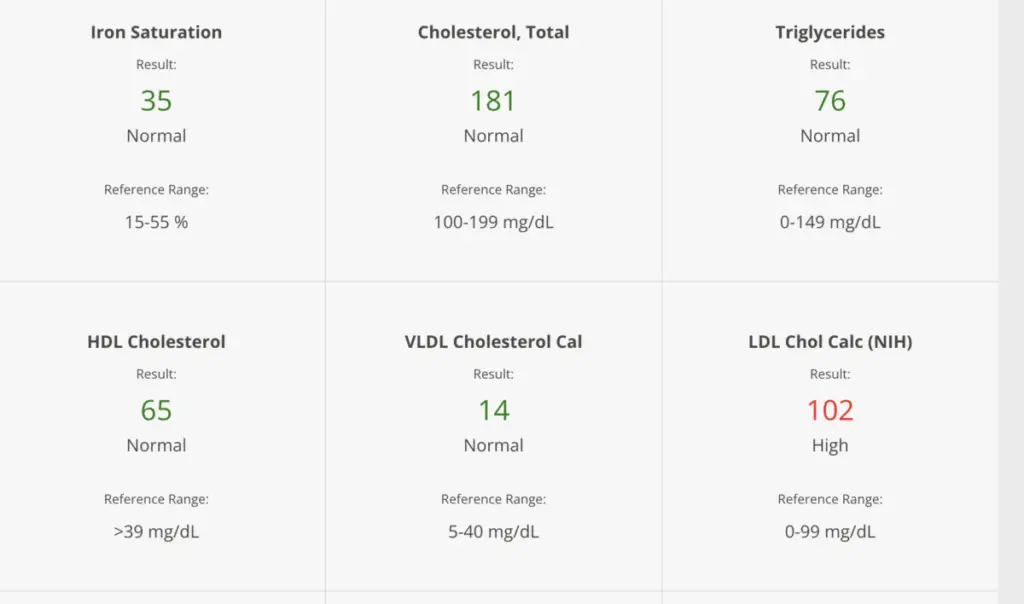 Yikes, high LDL. Coincidentally, a few weeks before PersonaLabs contacted me, I had had my annual check-up and had a similar blood test as the Healthy Female test. The results from PersonaLabs were consistent with the results I received through my regular doctor, who uses a different lab. This gives me confidence in the accuracy of both labs' results.
You can also download a PDF of the results. This comes in the more traditional lab format of a list in a Word document, and provides more detail on the test methodologies.
My PersonaLabs Physician Consult
Because I had the high LDL score, and I can't get in to see my regular doctor for a few months, I decided to use the option PersonaLabs offer to speak with a physician for a consult.
Normally the consult is $89, per the pricing on the website, but an email from PersonaLabs (the one providing the link to my results) offered a 50% discount. I paid the $44.50 to have the consult.
Again, the process was simple. I requested the consult and paid for it on the PersonaLabs website. I then received an email asking me to call a phone number to schedule the appointment. They confirmed my order and state of residence, and then sent me an email with a link to schedule an appointment. The consult is a 15-minute phone call (not video call) through EverlyHealth. The appointment was for the same day I scheduled it—try that with your regular physician.
The service is clear that they don't prescribe, treat or diagnose. They are just there to answer questions about the lab results. You will still need to make an appointment with your regular doctor if you need further medical intervention.
For me, the consult helped give me some tips about my diet that I can try myself. I'll get my blood tested again in 3-6 months to see if I have been able to get the LDL down to normal levels. If I had more serious concerns, I would discuss them with my own doctor.
Summarizing My Experience with PersonaLabs
Overall it was a very positive experience. The process was clear, smooth, and surprisingly quick. My own doctor has never suggested testing for heavy metals, so it was cool to be able to do that on my own.
The results were clearly presented and easy to understand, in terms of being normal or out of range.
My one disappointment was thinking I was getting my cadmium levels tested. Although I think the lab description could have been a little more precise, it was my faulty research on the LabCorp site that was to blame.
Not every lab offers a physician consult. This is an important benefit with PersonaLabs, as most consumers need some help interpreting their results and any follow-up actions needed.
There is a chat feature on the PersonaLabs website. It's an actual human, not a bot, so you can get some help in selecting labs or understanding the results. For example, I used the chat feature to find out what my BUN test was for (Blood Urea Nitrogen). I also asked how normal reference ranges are established. They didn't know that answer, but I am sure that is not a typical question they get, and not a simple answer.
A Bit More on PersonaLabs
Although they aren't the only online lab management service, they stand out for a few reasons:
They say they provide the largest range of direct-to-consumer healthcare services. In addition to lab testing, they also offer telehealth and prescription fulfillment services.
They have been around since 2006.
They offer 400+ lab tests at over 2300 lab locations.
The website and report are exceptionally consumer-friendly and easy to use.
All tests are currently 30% off with this code: 4THOFJULY
Overall, I recommend working with them. Again, share your lab results with your regular doctor and get advice on what to do about your results.
Hope this is helpful! Let me know if you get your own lab test and how it goes.