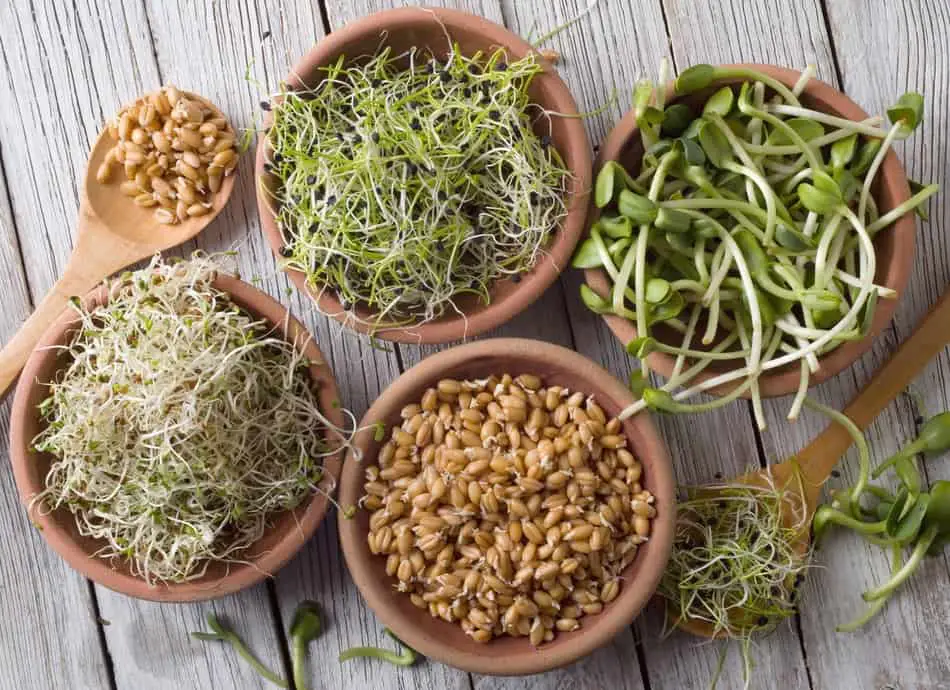 Sprouts are nutrition powerhouses. Young plants have the highest nutrient content of a plant's lifecycle, as they need maximum nutrient resources to grow.
Growing sprouts at home is also a recent trend. You can buy kits from companies like Hamama, have a ready-to-eat crop on your windowsill in as little as a week.
Here is an overview of the most popular varieties you can buy or grow yourself:
| | | |
| --- | --- | --- |
| | Flavor | Uses |
| Broccoli | Slightly bitter; has a light crunch, | Does not hold up to cooking; best used raw |
| Radish or Daikon | Spicy and peppery; crunchy. | Use raw or lightly cooked. |
| Clover | Similar taste to alfalfa sprouts; mild flavor and crunch | Does not hold up to cooking; best used raw |
| Kale | Similar flavor as adult kale or spinach | Eat cooked or raw. |
| Cabbage | Mild, earthy; purple color | Eat cooked or aw. |
| Bean (Mung) | Mild, crunchy | A staple of Asian cuisines; can be cooked |
I don't recommend eating alfalfa sprouts, and neither does the FDA or CDC. Alfalfa sprouts continue to be associated with food poisoning outbreaks. Their anatomy has nooks and crevices that allow pathogens to hide and evade cleaning.
But what to do with sprouts? Here are 14 different ways to get healthy sprouts into your diet.
15 Ideas For Using Sprouts
1. Avocado Toast
Slice or smash avocado onto bread, sprinkle with a little sea salt and freshly ground pepper, then top with sprouts. Sprouts give a nice crunchy contrast to the creaminess of avocados. Easy peasy, delicious and nutritious!
2. Smoothies
Just as you would add spinach, kale, parsley or other greens to a smoothie, you can add sprouts. Blend thoroughly with other green-smoothie ingredients for a delicious, drinkable sprout meal.
3. Burgers
Instead of lettuce, put sprouts on your veggie or regular burger. It provides the same fresh, green counterpoint to a hearty burger as other greens do. A veggie burger with onion, tomato, avocado and sprouts is one of my favorite meals.
4. Dips
Chop and mix sprouts with cream cheese, sour cream, or other soft cheeses to make a colorful, fresh-tasting dip. Put it on veggie crudités or use it as a sandwich spread.
5. Salads
Add any type of sprouts to any type of salad. Mix them into tossed salads, or sprinkle on top of a regular green salad. They will add texture, flavor and visual interest on top of amping up the nutritional value of your healthy salad.
6. Grilled Cheese
Sprouts can be eaten warm. Just as you might include spinach or arugula, you can include sprouts for a green counterpoint to decadent melted cheese. Or, for a modern take on grilled cheese, top the sandwich with sprouts after cooking.
7. Pizza
Have you ever eaten hot pizza topped with arugula? Delicious! And it makes you feel healthy while you're eating pizza. After pizza comes out of the oven, add sprouts on top. It's a similar principle to using them to top off a grilled cheese sandwich.
8. Cole Slaw and Potato Salad
Fold sprouts into potato salad and cole slaws, where they add color and contrasting texture.
9. Cold Sandwiches and Wraps
Sprouts are a terrific ingredient in deli-style sandwiches. Make a sandwich with your favorite ingredients, and add sprouts. For a vegetarian like me, that would include cheese (pasture-raised, grass-fed, hormone-free), onion, tomato and sprouts, in addition to or instead of lettuce. Sprouts are also great in wraps, which helps hold them together.
10. Omelets
Add sprouts at the last minute, before folding the omelet together. Or, you can top an omelet with sprouts after it is cooked. A good combination is mushroom, garlic, Swiss cheese and sprouts.
11. Baked Potato
Use sprouts as a topping for baked potato. The sprouts provide a similar crunch contrast as green onions.
12. Soups and Stews
You can stir sprouts into soup or stew after it is hot.
13. Tacos and Burritos
Where you would use shredded lettuce, you can use sprouts. Again they provide a refreshing contrast to warm cheese, beans or meat.
14. Rice, Bean or Lentil Dishes
Top them with sprouts, as you might top them with parsley or cilantro, to "green up" a dish. They are great on top of cold lentil or grain salads, as well.
15. As a Bed For…Anything
You can use a bed of sprouts under fish, meat, or a burrito bowl. The sprouts act like a salad and heighten the color and interest on the plate.
I hope this gives you lots of ideas for eating healthy and nutritious sprouts! Enjoy.