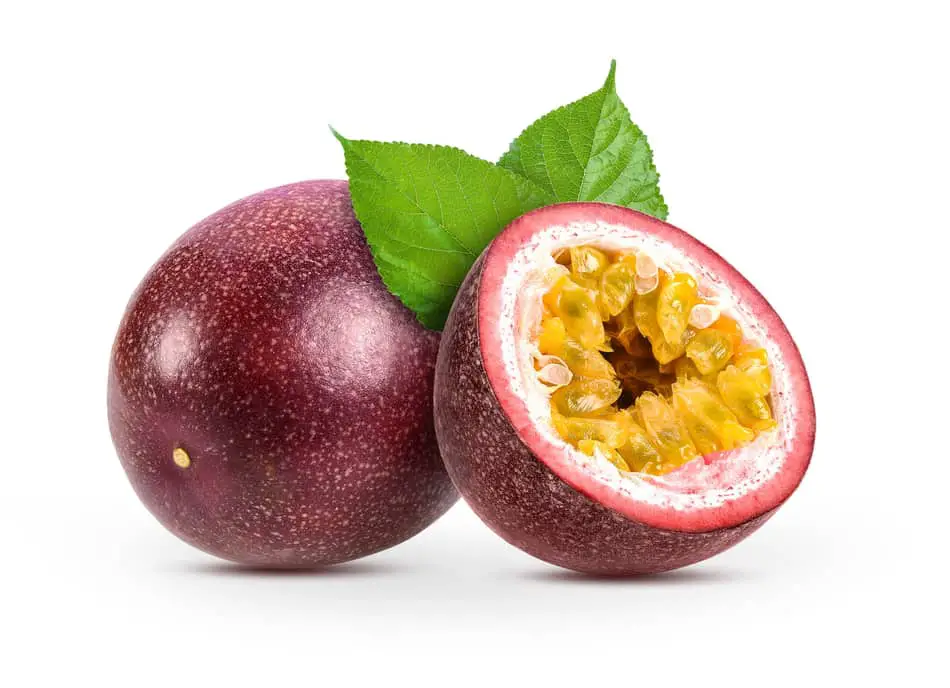 You may be trying to increase your intake of fiber for its digestive and overall health benefits. Eating more fresh, whole fruit is a great way to do so. But what fruits are highest in fiber?
Passion fruit has the highest amount of fiber among 33 popular varieties of fruit. It has 10.4 grams of fiber in a 100-gram serving (about 3/4 cup). That's over 13 times more fiber than watermelon, which is the fruit with the least amount of fiber per serving at 0.8 grams.
Kumquat and Raspberries are tied for having the second-highest levels of fiber among the fruit types tested at 6.5 grams each per serving.
Read on for a table of fruits in alphabetical order, and then a second table where the fruits are ranked in order of fiber content from highest to lowest.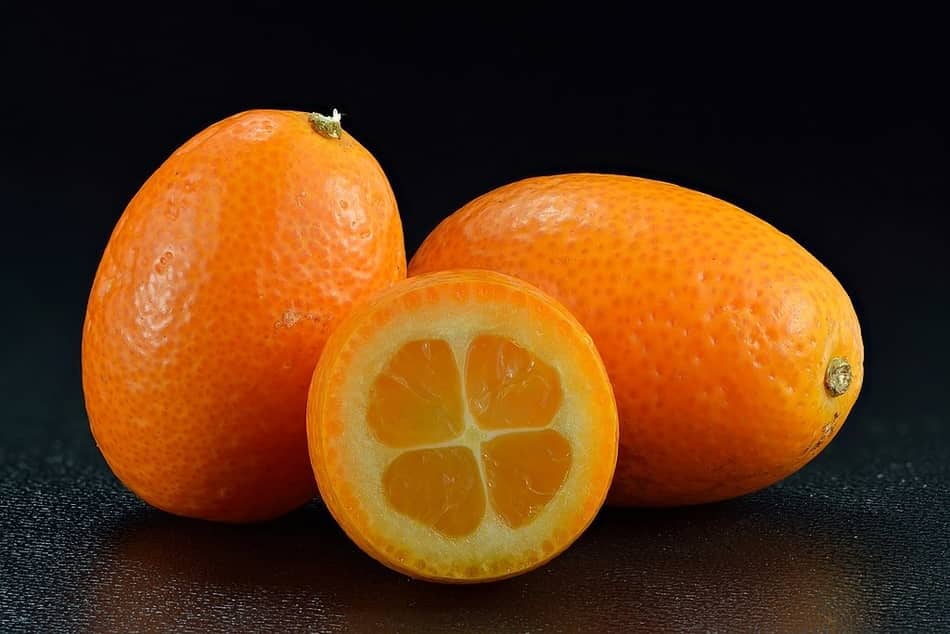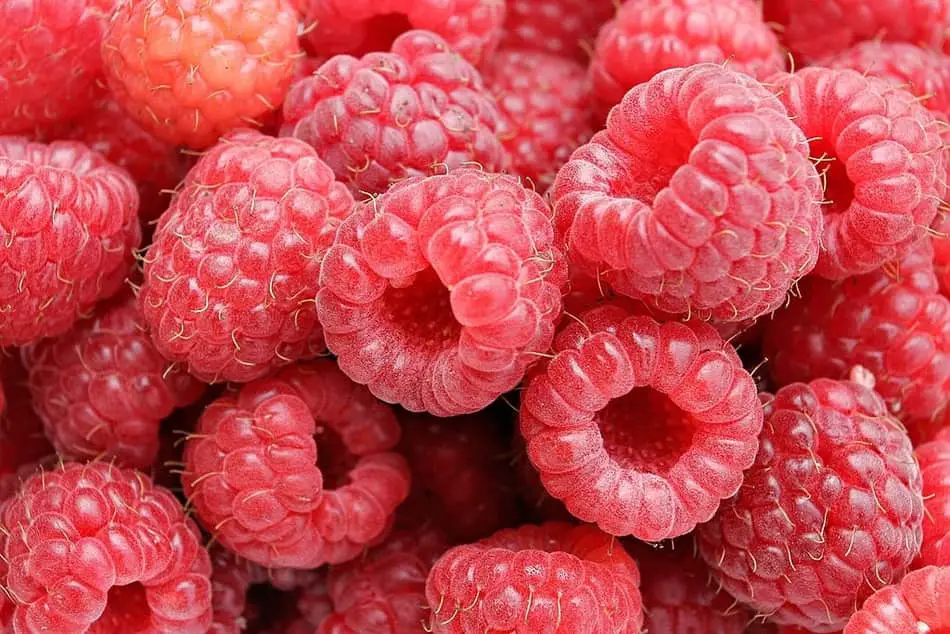 Fruit
(100 grams)
Fiber
(grams)
Apple (Honeycrisp)
1.7
Apple (Granny Smith)
2.6
Apricot
2.0
Bananas
2.6
Blackberries
5.3
Blueberries
2.4
Cantaloupe
0.9
Cherries
2.1
Clementine
1.8
Grapefruit
1.6
Grapes
0.9
Guava
5.4
Honeydew Melon
0.8
Kiwi
3.0
Kumquat
6.5
Lychee
1.3
Mandarin
1.8
Mango
1.6
Nectarine
1.5
Orange
2.4
Papaya
1.7
Passion Fruit
10.4
Peaches
1.5
Pear
3.1
Persimmon
3.6
Pineapple
1.4
Plums
1.4
Pomegranate
4.0
Raspberries
6.5
Strawberries
2.0
Tangerine
1.8
Watermelon
0.4
Table of Total Dietary Fiber For Many Popular Fruits in Alphabetical Order
Source: USDA Food Data Central
Fruit In Order From Highest to Lowest Fiber
Fruit
(100 grams)
Fiber
(grams)
Passion Fruit
10.4
Kumquat
6.5
Raspberries
6.5
Guava
5.4
Blackberries
5.3
Pomegranate
4.0
Persimmon
3.6
Pear
3.1
Kiwi
3.0
Apple (Granny Smith)
2.6
Bananas
2.6
Blueberries
2.4
Orange
2.4
Cherries
2.1
Apricot
2.0
Strawberries
2.0
Clementine
1.8
Mandarin
1.8
Tangerine
1.8
Apple (Honeycrisp)
1.7
Papaya
1.7
Grapefruit
1.6
Mango
1.6
Nectarine
1.5
Peaches
1.5
Pineapple
1.4
Plums
1.4
Lychee
1.3
Cantaloupe
0.9
Grapes
0.9
Honeydew Melon
0.8
Watermelon
0.4
Table of Total Dietary Fiber For Many Popular Fruits in Order From Highest to Lowest
Source: USDA Food Data Central
Health Benefits of Fruit Fiber
Fiber's benefits include reducing the risk of diabetes, colon cancer and obesity, and others1,2.
Fruit is an especially healthy way to get your fiber. The list of benefits of fruit fiber supported by research is long, and is discussed in a retrospective article published in the journal Nutrients3:
Protecting colonic gastrointestinal health (e.g., constipation, irritable bowel syndrome, inflammatory bowel diseases, and diverticular disease)
Promoting long-term weight management
Reducing risk of cardiovascular disease
Reducing risk of type 2 diabetes and metabolic syndrome
Defending against colorectal and lung cancers
Improving odds of successful aging
Reducing the severity of asthma and chronic obstructive pulmonary disease
Enhancing psychological well-being and lowering the risk of depression
Contributing to higher bone mineral density in children and adults
Reducing risk of seborrheic dermatitis
Helping to attenuate autism spectrum disorder severity
Why is Fruit Fiber Beneficial; How Does It Work?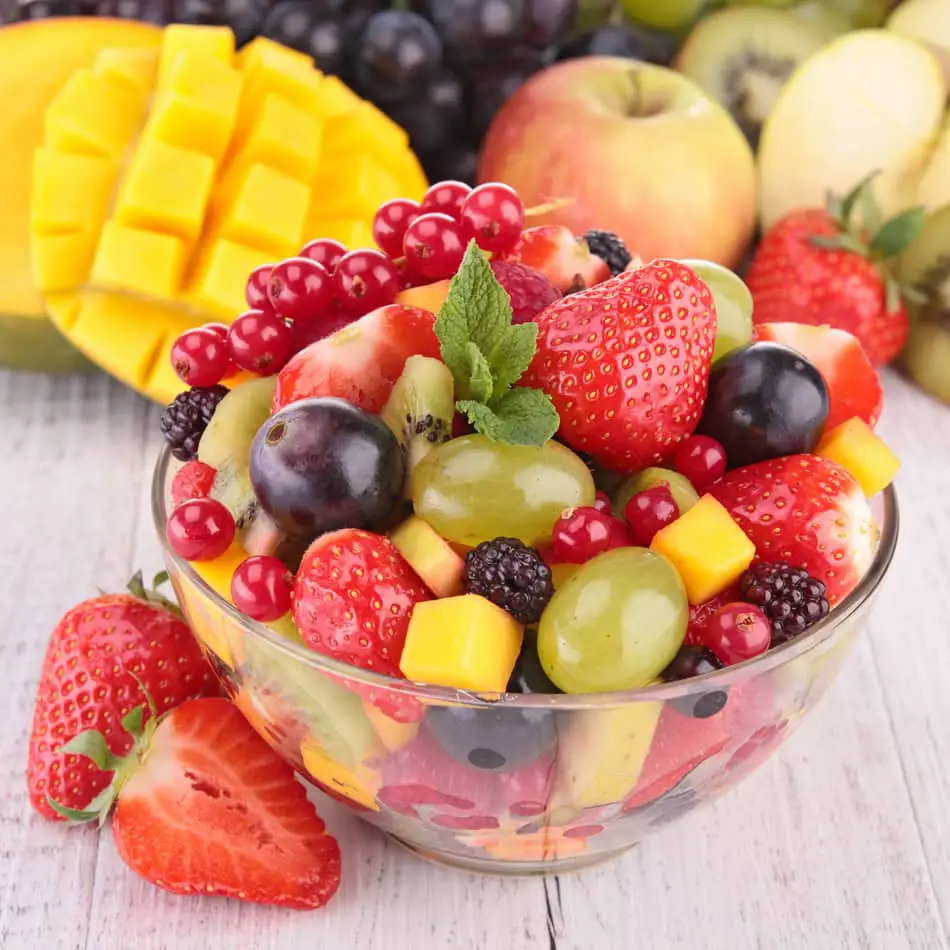 Science is still learning how fruit fiber benefits us, but here are just some of the potential hypotheses (also from the retrospective article):
Higher fiber intake is associated with a healthier gut biome, which leads to many positive effects

Lower fruit intake is associated with higher BMI and the gut bacteria associated with obesity
As the article says: "The combination of fruit fiber such as pectin and polyphenol components can influence the colonic microbiota ecosystem to increase the number of bacterial phyla Bacteroidetes and Actinobacteria, which are predominant in lean individuals and decrease the prevalence of Firmicutes and Proteobacteria, which are dominant in obese individuals."
Certain bacteria help tamp down the inflammation that is associated withy many chronic diseases

Whole fruit can reduce the appetite for foods throughout the day

Gelling fibers like pectin in fruit reduces appetite and reduces energy intake
Whole fruit slows gastric empying more than juice, cookies or potato chips, and prolongs the feeling of fullness
Calorie/lipid absorption may be diminished

Eating the pectin in whole fruits can lower total and LDL-cholesterol (LDL-C) levels and other cardiometabolic risk factors.

The primary mechanism is related to increased fruit fiber bulking, reducing the efficiency of bile acid reabsorption leading to increased uptake of circulatory LDL-C by the liver to compensate for reduced availability of bile acids
Fruit fiber has been associated with lowered blood pressure more so than cereal or vegetable fiber
Attenuating elevated systemic inflammation and LDL-oxidation risk

Whole fruits help to lower risk of metabolic syndrome risk because of their low energy density, high fiber to total carbohydrate ratios, and high content of antioxidant and anti-inflammatory vitamins (C and E) and phytochemicals (polyphenols and carotenoids)
Fiber promotes the healthy microbiota that reduce tumorigenic inflammation, carcinogen production, and altered cellular responses in susceptible individuals
Fiber from fruit has been linked to increased telomere length
Summing it Up
All fruit is healthy for you, and eating any fruit on this list is better than not eating fruit at all. But if you want your choice of fruit to be driven by fiber, passion fruit has the highest amount. Raspberries or kumquats are a great choice among the more everyday varieties of fruits.
Enjoy!
You may also be interested in which fruits have the lowest sugar and lowest carbs (they aren't the same); find out here.
Find out what the healthiest nut is here.
Learn about the healthiest salad green variety here.
Resources
1 Birt, D. F., Boylston, T., Hendrich, S., Jane, J. L., Hollis, J., Li, L., McClelland, J., Moore, S., Phillips, G. J., Rowling, M., Schalinske, K., Scott, M. P., & Whitley, E. M. (2013). Resistant starch: promise for improving human health. Advances in nutrition (Bethesda, Md.), 4(6), 587–601. https://doi.org/10.3945/an.113.004325.
2 Nugent, A. P. (2005). Health properties of resistant starch. Nutrition Bulletin, 320 30(1), 27-54.
3 Dreher M. L. (2018). Whole Fruits and Fruit Fiber Emerging Health Effects. Nutrients, 10(12), 1833. https://doi.org/10.3390/nu10121833.