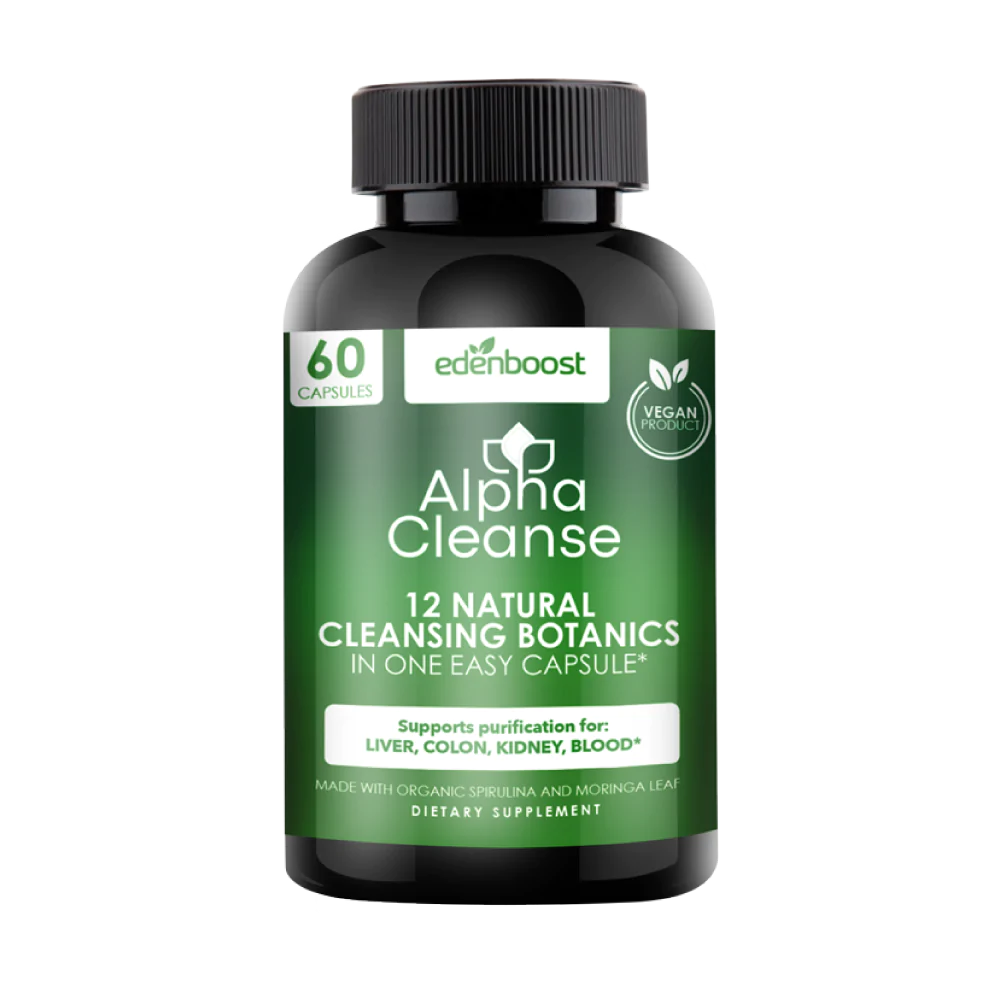 Juice fasts, colon cleanses and coffee enemas are popular trends to detoxify and improve health. Unfortunately, most of these techniques are unproven to work and can do more harm than good1.
It's true that our bodies need to process and remove a steady influx of toxic substances These include the by-products of our own metabolism, as well as externally-originating toxicants like pollution in the air we breath, chemicals in the products we use, and unwholesome ingredients in the food we eat.
Our lungs, colon, liver and kidneys are the primary detoxification organs2. They help us process toxins by converting them to less harmful substances, expelling them from our body, or storing them in our body fat.
Some of us are subject to more of these toxins than others, depending on our environments and lifestyle choices. But for all of us, neutralizing and ridding our bodies of these toxins are among our body's most important daily tasks.
Better Ways to Detoxify
So what are some safe and healthy ways to support your body's own detoxification efforts? Try these strategies:
Minimize toxin intake: Don't exercise outside on high-pollution days. Use natural health, beauty and cleaning products. Buy organic produce and avoid processed foods. Get a good night's sleep every night. Drink little or no alcohol. Don't smoke.
Use saunas. Sweating more will accelerate the detox process.
Eat foods that support a healthy gut: Eat more fiber. See my article here on the highest-fiber cereals, here on the highest-fiber fruit, and here on the highest-fiber vegetable.
Consider supplements. There are a number of natural supplements that have been shown to help our bodies' detoxification processes. You can find single-ingredient supplements or teas like dandelion or milk thistle. Or you can buy supplements that have combinations of these ingredients.
This is a sponsored blog post for AlphaCleanse, by EdenBoost, who sent me a bottle of the supplement to try in exchange for my honest review. Here is my assessment of the product.
Review of AlphaCleanse by EdenBoost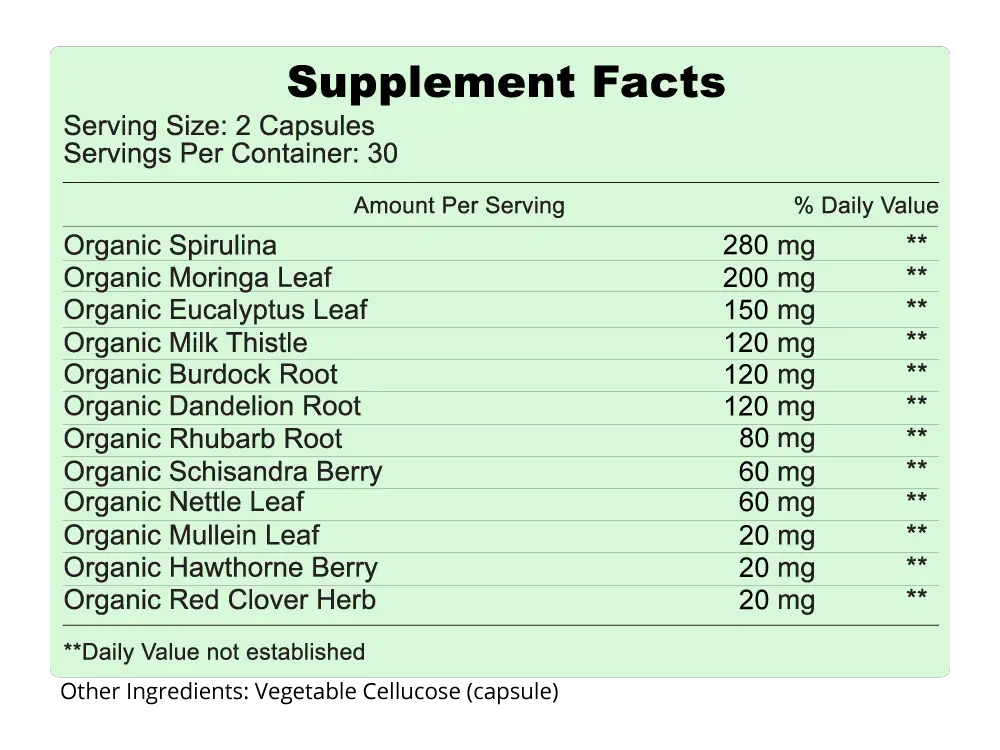 AlphaCleanse contains 12 different main ingredients. All of them have research behind them supporting their role in detoxification processes:
Spirulina—this blue-green algae deserves its reputation as a superfood. It packs vitamins, minerals, protein and phytonutrients into a small package. Its detoxifying benefits come from chlorophyll, which is known to help pull heavy metals out of the body. At least 58 studies confirm that spirulina helps alleviate arsenic, cadmium, lead and mercury levels due to its intrinsic antioxidant activity.
Moringa Leaf—this flowering tree has been used for centuries in Ayurvedic medicine and is associated with many disease-fighting properties. Its primary role in this supplement is likely to help protect the liver. It can restore liver enzymes to normal levels and prevent lipid oxidation. It contains quercetin, also known to protect the liver4.
Eucalyptus Leaf—this evergreen tree is likely present in this formula because of its antimicrobial, antiviral and fungicidal properties. It has long been a popular home remedy for colds and bronchitis and can also act as an expectorant, loosening congestion5,6.
Milk Thistle—this herb has been used for hundreds of years for liver health. It contains silymarin, which has been shown to have these liver benefits, according to a 2018 research summary7:

Antioxidant (direct free radical scavenger activity)
Antifibrotic (inhibits the conversion of stellate cells in myofibroblasts)
Regenerative (stimulate hepatic regeneration)
Choleretic (causes an upregulation of the bile salt export pump)
Hepatoprotective (suppress the release of cytokines)
Immunostimulating (prevents inflammasome activation)
Antiinflammatory (inhibition of NF‐κB pathway)

Burdock Root—this plant has been used in Traditional Chinese medicine for centuries to "cleanse the blood," among other benefits. It is thought to do by promoting blood circulation. It is also a diuretic so it increases urine flow, which may help "cleanse" the kidneys and expedite the elimination of toxins in the urine8.
Dandelion Root—like Burdock, this backyard week is a diuretic, so is thought to support kidney health. In addition, numerous studies demonstrate that dandelion improves liver health in a variety of ways across a variety of conditions9.
Rhubarb Root—rhubarb, a common vegetable (really a fruit) also used in Traditional Chinese Medicine for centuries, is an antifibrotic, which helps protect the liver and kidneys. In addition, it is known for aiding digestion and improving the mucosal lining of the gut, presumably helping heal leaky gut10.
Schisandra Berry—this berry, native to China, is an adaptogen. It has been found to be effective against liver damage and hepatitis, and to improve non-alcoholic fatty liver disease11.
Nettle Leaf—Nettle is a perennial weed with many medicinal properties (once you remove the stinging hairs). Its antioxidant properties may protect the liver against damage from toxins, heavy metals and inflammation12,13.
Mullein Leaf—the research on this flowering plant is light, but it has been used for centuries to treat cough, congestion and bronchitis. It is thought to be an expectorant and to relieve irritation. It has antiviral and antibacterial properties14,15.
Hawthorne Berry—the berries of this shrub have shown promise in the treatment of heart disease. Its "cleansing" properties, thanks to its flavonoids, are in its ability to increase the integrity of the blood vessel wall and improve coronary blood flow, as well as have positive effects on oxygen utilization16.
Red Clover Herb—for centuries, this common herb has been used to treat a wide variety of ailments. Its role in this cleansing formula may be to lower cholesterol thereby enhancing the blood17.
The product website says some of the ingredients contain prebiotics, which are good for the gut microbiome and can help with weight management. A consideration with these claims is whether the quantities are large enough to serve as a significant source of prebiotics. I would take AlphaCleanse for its detox and other benefits, but not rely on it as a prebiotic. To feed a healthy microbiome, eat artichokes, garlic, onions, leeks, asparagus, and bananas (among other options) as whole foods.
AlphaCleanse carries the MOSA certified organic and GMP (Good Manufacturing Practices) seal, and says it is GMO, dairy, gluten, and soy-free.
I didn't notice any odor or taste with the pill. It has a soft coating made of vegetable cellulose, is medium-sized, and is easy to swallow.
Dosing
The directions are to take two capsules a day, with or without food. There are 60 capsules per bottle, so each bottle will last a month. EdenBoost recommends trying the supplement for two months to feel the effects. No refrigeration is needed.
Where to Purchase
You can purchase AlphaCleanse on the EdenBoost website or on amazon. Readers of my blog can get a 10% discount on the EdenBoost website (same price as amazon) by using this link to EdenBoost, or by entering the coupon code WELLINTRUTH at checkout.
On both sites you can buy in greater quantities than one bottle for discounts, or sign up for a subscription for a further discount.
Summary
If you're looking to improve your gut microbiome, AlphaCleanse won't hurt, and it might even help. But eating high fiber and fermented whole foods is likely the most effective way to go.
If you are looking for one supplement that provides a range of detox-supporting ingredients, AlphaCleanse is a good option. All of its ingredients have research behind them demonstrating their beneficial role in the body's detoxification systems.
There are many supplements on the market for detoxification, with a wide range of ingredients and ingredient combinations. AlphaCleanse has one of the largest arrays of ingredients, and again, all are known to have some detoxification benefits using different modes of action in different areas of the body.
I haven't taken it for the full two months yet, but have felt well while taking it. I did not notice any side effects.
As always, check with your doctor if you have any questions, and don't take if you are pregnant or nursing.
If you try AlphaCleanse, let me know what you think!
Resources
1 Keck Medicine of USC: https://www.keckmedicine.org/blog/is-colon-cleansing-dangerous/
2 Rush Hospital, Chicago: https://www.rush.edu/news/truth-about-toxins
3 Bhattacharya S. (2020). The Role of Spirulina (Arthrospira) in the Mitigation of Heavy-Metal Toxicity: An Appraisal. Journal of environmental pathology, toxicology and oncology : official organ of the International Society for Environmental Toxicology and Cancer, 39(2), 149–157. https://doi.org/10.1615/JEnvironPatholToxicolOncol.2020034375.
4 Milla, P. G., Peñalver, R., & Nieto, G. (2021). Health Benefits of Uses and Applications of Moringa oleifera in Bakery Products. Plants (Basel, Switzerland), 10(2), 318. https://doi.org/10.3390/plants10020318.
5 Dhakad, A. K., Pandey, V. V., Beg, S., Rawat, J. M., & Singh, A. (2018). Biological, medicinal and toxicological significance of Eucalyptus leaf essential oil: a review. Journal of the science of food and agriculture, 98(3), 833–848. https://doi.org/10.1002/jsfa.8600.
6 Shao, J., Yin, Z., Wang, Y., Yang, Y., Tang, Q., Zhang, M., Jiao, J., Liu, C., Yang, M., Zhen, L., Hassouna, A., White, W. L., & Lu, J. (2020). Effects of Different Doses of Eucalyptus Oil From Eucalyptus globulus Labill on Respiratory Tract Immunity and Immune Function in Healthy Rats. Frontiers in pharmacology, 11, 1287. https://doi.org/10.3389/fphar.2020.01287.
7 Abenavoli, L., Izzo, A. A., Milić, N., Cicala, C., Santini, A., & Capasso, R. (2018). Milk thistle (Silybum marianum): A concise overview on its chemistry, pharmacological, and nutraceutical uses in liver diseases. Phytotherapy research : PTR, 32(11), 2202–2213. https://doi.org/10.1002/ptr.6171.
8 Chan, Y. S., Cheng, L. N., Wu, J. H., Chan, E., Kwan, Y. W., Lee, S. M., Leung, G. P., Yu, P. H., & Chan, S. W. (2011). A review of the pharmacological effects of Arctium lappa (burdock). Inflammopharmacology, 19(5), 245–254. https://doi.org/10.1007/s10787-010-0062-4.
9 Pfingstgraf, I. O., Taulescu, M., Pop, R. M., Orăsan, R., Vlase, L., Uifalean, A., Todea, D., Alexescu, T., Toma, C., & Pârvu, A. E. (2021). Protective Effects of Taraxacum officinale L. (Dandelion) Root Extract in Experimental Acute on Chronic Liver Failure. Antioxidants (Basel, Switzerland), 10(4), 504. https://doi.org/10.3390/antiox10040504.
10 Xiang, H., Zuo, J., Guo, F., & Dong, D. (2020). What we already know about rhubarb: a comprehensive review. Chinese medicine, 15, 88. https://doi.org/10.1186/s13020-020-00370-6.
11 Cheng, N., Ren, N., Gao, H., Lei, X., Zheng, J., & Cao, W. (2013). Antioxidant and hepatoprotective effects of Schisandra chinensis pollen extract on CCl4-induced acute liver damage in mice. Food and chemical toxicology : an international journal published for the British Industrial Biological Research Association, 55, 234–240. https://doi.org/10.1016/j.fct.2012.11.022.
12 Siouda, W., & Abdennour, C. (2015). Can Urtica dioica supplementation attenuate mercury intoxication in Wistar rats?. Veterinary world, 8(12), 1458–1465. https://doi.org/10.14202/vetworld.2015.1458-1465.
13 Oguz, S., Kanter, M., Erboga, M., & Ibis, C. (2013). Protective effect of Urtica dioica on liver damage induced by biliary obstruction in rats. Toxicology and industrial health, 29(9), 838–845. https://doi.org/10.1177/0748233712445045.
14 Rajbhandari, M., Mentel, R., Jha, P. K., Chaudhary, R. P., Bhattarai, S., Gewali, M. B., Karmacharya, N., Hipper, M., & Lindequist, U. (2009). Antiviral activity of some plants used in Nepalese traditional medicine. Evidence-based complementary and alternative medicine : eCAM, 6(4), 517–522. https://doi.org/10.1093/ecam/nem156.
15 Mahdavi, S., Amiradalat, M., Babashpour, M., Sheikhlooei, H., & Miransari, M. (2020). The Antioxidant, Anticarcinogenic and Antimicrobial Properties of Verbascum thapsus L. Medicinal chemistry (Shariqah (United Arab Emirates)), 16(7), 991–995. https://doi.org/10.2174/1573406415666190828155951.
16 Rigelsky, J. M., & Sweet, B. V. (2002). Hawthorn: pharmacology and therapeutic uses. American journal of health-system pharmacy : AJHP : official journal of the American Society of Health-System Pharmacists, 59(5), 417–422. https://doi.org/10.1093/ajhp/59.5.417.
17 Mohsen, A., Fatemeh, K., Leila, N., Mona, P., Mohammad, Z., & Mozafar, K. (2021). Pharmacological and therapeutic properties of the Red Clover (Trifolium pratense L.): an overview of the new finding. Journal of traditional Chinese medicine = Chung i tsa chih ying wen pan, 41(4), 642–649. https://doi.org/10.19852/j.cnki.jtcm.20210324.001.